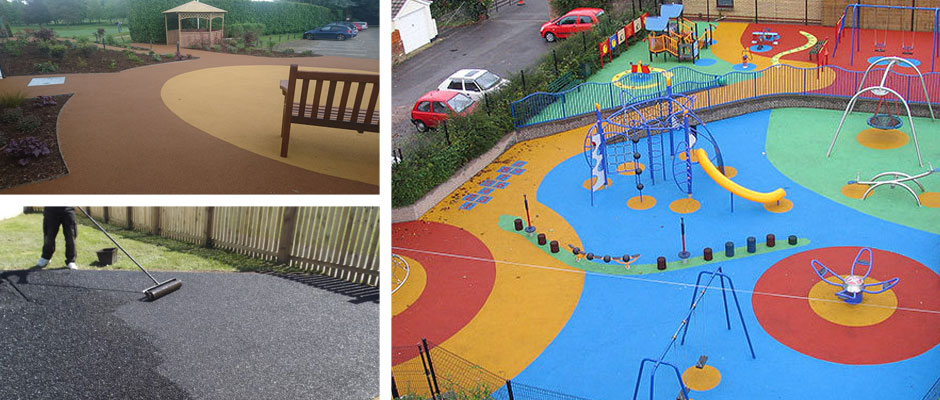 Wet Pour Rubber Safety Surfacing is suitable for all playground installations where impact absorbent surfacing is a requirement. It can be used around complex configurations of playground equipment and ground contours.
Wet Pour surfacing for playgrounds is slip-resistant and non-abrasive to young limbs. It is porous, so puddles, which can create slippery conditions in the winter, do not form.
Bases
Our Playground Wet Pour rubber surfacing system is designed to be laid onto the following bases:
Up to 12mm stone no-fines concrete or open-textured bitmac
MOT Type 1 stone (surfaces with a thickness of 40mm or more)
Existing tarmac or concrete, subject to being in good condition
Material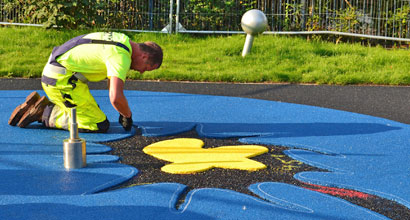 Wet Pour rubber safety surfacing is recycled bonded rubber, mixed on site using special equipment and laid to exacting standards. The base layer is SBR (Styrene Butadiene Rubber). The top layer is recycled EPDM (Ethylene Propylene Di Monomer).
Our fall protection flooring for outdoor playgrounds is a system that absorbs high levels of (fall) energy and thus protecting children in particular from injury.
Water-permeable, easy to maintain, weather-resistant and durable. The top layer is built with colored, UV-stable EPDM granules. Many available colors and color combination hardly limits the creativity.
Certification
You can download the test certification relating to our wetpour surfacing here.