Stilum – More Information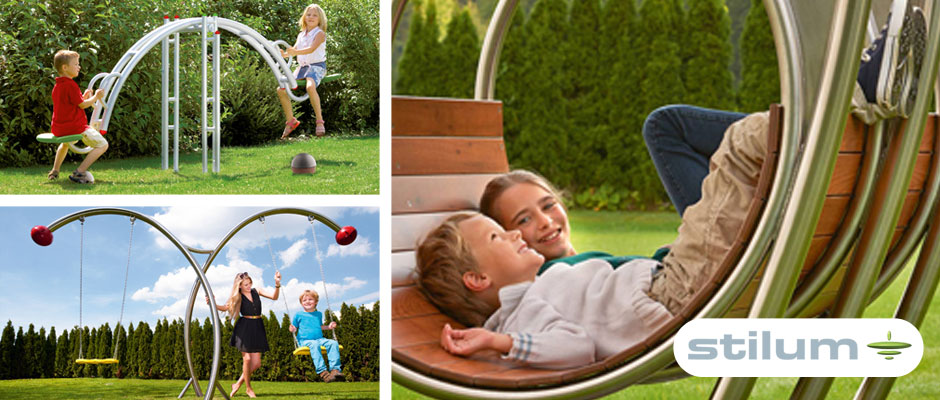 STILUM PLAY – Learning and playing together
Stilum was one of the first playground equipment manufacturers who developed a special product range for toddlers that appeals to the senses.
When playing together, toddlers, children and teenagers learn to figure out their capacities. They experience limits but learn to overcome them, time after time, and grow. In conjunction with each other, they discover new worlds and find their places through social interaction. New ideas, such as the "Green Classroom", widen horizons in the world of learning and experiencing.
Stilum Play contributes to a child – and teenager-oriented city development and offers a very broad product range.
STILUM FITNESS – workout fun as an investment in national health
Stilum fitness equipment facilitates low-threshold access for all generations and actively counteracts degeneration of muscle mass.
From athletes via teenagers to senior citizens – Stilum fitness equipment meets each individual training level. Huge pros are that it can be used throughout the seasons in all weather conditions as well as its airy and communication enhancing structure.
It is, above all, the new fitness trend Calisthenics and Parkour that has encouraged Stilum to offer a range of extraordinarily good training equipment which convinces by numerous exercise variants.
Competence and Experience
Our cooperation with sport medicine and sport science specialists is essential to develop equipment with a correct movement control to ensure an effective and healthy training.
The experience and the knowledge of IPN, German institute for prevention and after-care in Cologne, and ILS, German institute for sport performance technology and traumatology in Koblenz, had a major influence on the development of the stilum health product line.
Prof. Dr. med. Peter Billigmann (ILS) and Elmar Trunz-Carlisi (IPN) have intensively worked with us to develop the best fitness equipment on the basis of medical facts and health aspects. Interestingly this is almost a USP, as many of our competitors do not work with sport medicine and sport science specialists. The range of Stilum equipment allows versatile and all-embracing exercises aiming at the following:
Strength: Improving and maintaining strength and substance of major muscle groups.
Stamina: Improving of the cardio-vascular efficiency.
Coordination: Improving and maintaining good control of ones movements and the stability of ones joints.
Physical mobility: Prevention or even remedy of muscular abridgement.
STILUM PARK – Public and open space design
For Stilum, public space has become the extension of private space. This is why the growing change in urban landscapes is also reflected in our range of products – with outstanding design objects we upgrade park and inner-city areas and create communication platforms for all generations. By means of large-format images, unique seating furniture or matching waiting areas, Stilum underline their leading role in this segment.
Successful cities have one thing in common: they offer a unique and pleasant environment for residents, visitors and employees alike. Stilum highlight the cities' uniqueness with their extraordinary range of city furniture.
The individual elements, such as benches, tables or waiting areas display a uniform design thus offering the possibility of underlining the cities' very own CI with Stilum furniture. The reduced and puristic design language is a perfect match for both modern and rustic cityscapes.
STILUM SAFETY – Safety as a matter of fact
It is an everlasting challenge to avoid injuries caused by playing or sporting dynamics. stilum therefore offers the perfectly fitting flooring system for every play and fitness equipment.
Continuous product improvement and regular careful and thorough analyses and testing form the basis for our R&D and innovative product development. Stilum Safety stands for the best protection at reasonable costs.
For more than 30 years now, stilum has been dealing with rubber as material earning us the reputation of innovation, sustainability and an outstanding design language. The quality of our products has been proven by decades of cooperation with customers all over the world.