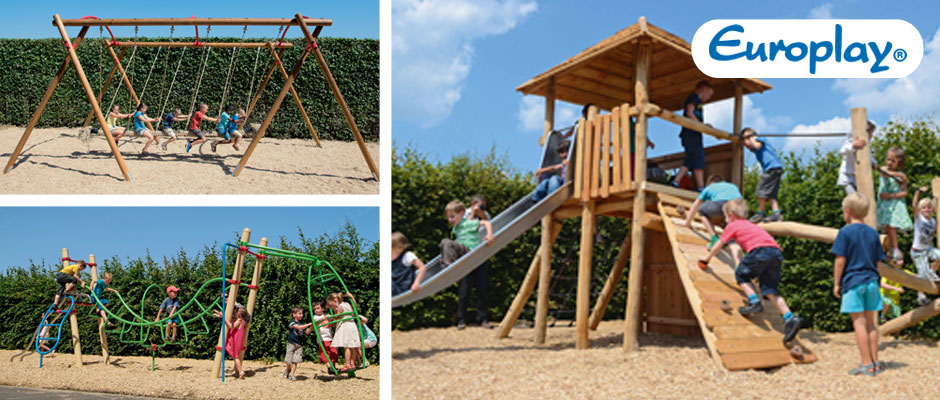 GROWTH THROUGH INNOVATION
Europlay was established more than 30 years ago. Thanks to our continuous search for innovation, we have managed to become one of the world's leading manufacturers and suppliers of children's playground equipment.
CREATIVITY AND PRODUCTION GO HAND IN HAND
Our design department creates contemporary playground equipment which enables children to be and stay themselves while playing. The key combination of a motivated team of skilled workers and modern machinery guarantees the production and supply of equipment from our two production plants to more than 20 countries worldwide.
MISSION
Europlay manufactures imaginative playground equipment for public use, designed to stimulate creative play
PRODUCT RANGE
ECO-PLAY
Eco-Play is a range of playground equipment exported under the label of Europlay, characterized by their environmentally friendly and playful character and connected to the surrounding nature. This is made possible because of the use of untreated, durable wood species in their natural shape.
WHY ROBINIA WOOD?
Beams in robinia wood have a natural curve, little sapwood and high durability. This wood species creates the feeling of an environment full of woods, even when situated in the city.
WHY NATURE AS AN INSPIRATION?
With the Eco-Play playground equipment you can create a playground with love and respect for children and nature. The appearance of the playground equipment gives an environmentally friendly look to the world of concrete.
DOES THIS PLAYGROUND EQUIPMENT ADD AN EXTRA PLAY VALUE?
Children like to push their boundaries. Crossing a curved beam is much more challenging than crossing a straight beam. Using beams with a natural curve creates several new playing possibilities. Because of the combination of nets and ropes in polypropylene rope every Eco-Play playground equipment becomes a real jungle.
WHAT ABOUT CRACKS IN ROBINIA POSTS?
We make use of robinia heartwood. This means that natural length cracks are considered as a normal phenomenon. Wood is a natural product which is constantly subject to drought and humidity. In case of nice weather, round wood starts shrinking in the direction of its growth rings, creating surface cracks. These cracks tend to get smaller again in humid times.
As a consequence, natural cracks – up to 3-4% of the circumference – are a normal sign in dry times. This will, however, never cause a post to break, because length cracks never appear in a straight line. The cracks are interrupted regularly as they follow the natural growth of the tree. That is why it does not affect the general safety. Moreover, cracks always tend to be V-shaped, so there will also never occur a problem with relation to finger entrapment.
ENVIRONMENT
The use of environmentally friendly wood:
No residual waste because no heavy metals are used (no impregnation with metal salts)
The use of certified wood (PEFC); a certificate of origin is included
The use of European types of wood protects the tropical rainforest and limits the emission of CO2
The application of the different types of wood according to their own natural durability makes that no further wood treatment is required
SAFETY
Europlay stands for innovative, challenging and safe playground equipment. Each new design is trying to combine and reconcile safety and child-friendliness. The European EN 1176 safety certificate is proof of this!
LIFETIME WARRANTY
on stainless steel components*
(except for moving & mechanical parts)
on galvanised steel components
on HDPE panels
15 YEARS
10 YEARS
on corrosion and structural failures of powder coated steel components
(except for springs, moving & mechanical parts and fixing materials)*
on dry rot (larch and oak)
on synthetic materials
5 YEARS
on steel springs*
on ropes and net components*
2 YEARS
on structural failures of components due to manufacturing errors
*WARRANTY ON PLAYGROUND EQUIPMENT NEAR WATER
The usual warranty on metal corrosion doesn't apply to components placed in coastal areas, i.e. less than 5 km from the coast.
LIMITATION ON WARRANTY AND EXCLUSION OF WARRANTY
There is no warranty on equipment that hasn't been installed properly (according to the assembling manual provided by Europlay), on equipment that hasn't been maintained correctly (according to the maintenance prescriptions provided by Europlay), and/or when spare parts other than Europlay parts have been used to repair the equipment.
MATERIALS
The playground equipment of Europlay is made of a unique combination of basic materials:
Timber
Metal
HDPE polyethylene sheet material
Ropes and nets with steel-wire reinforcement
Below you can find a summary of the timber Europlay uses:
LARCH
Larch (class III) is used most of all at Europlay. It is a wood type low on sapwood and it has a durable heart/core, which makes it ideal to use for outdoor products.
DOUGLAS
Douglas (class III) is used as an alternative for straight and strong wood structures. Has some more sapwood than larch so it is applicable to round wood of which the sapwood is mostly milled.
OAK
Oak (class II) is a durable stable wood that is only used for round and square poles in contact with the ground.
ROBINIA
Robinia is used in the range of Eco-Play. Robinia wood is part of the durability class I to II, hence it is the most durable European wood species.
POLE FIXINGS
For the majority of the equipment the timber is not in contact with the ground. Instead of directly into the ground, the poles are placed on metal base supports (TYPE A in the ground or TYPE B on the ground).
METAL
Three types of metal are being used: steel, aluminium and stainless steel. All steel components are being sandblasted and treated against corrosion, whereupon they receive a final colour by means of a polyester powdercoating. This entire treatment process offers high-quality characteristics and ensures colour fastness. Aluminium parts are always anodised and coloured by means of a polyester powdercoating. Stainless steel components offer a high durability and protection against corrosion, as well as an everlasting good look. All metal materials are 100% recyclable.
PLASTICS
Synthetic elements consist of polyethylene, polypropylene, polyamide or polycarbonate. The materials are selected and processed depending on their strength and applicability. All plastic components are UV-resistant and protected against breaking and colour changes. HDPE polyethylene sheets (High Density Polyethylene) are produced specifically for the creation of playground equipment. This product's high density offers an absolute added value against deformations. All plastics are 100% recyclable. Moreover, the black coloured HDPE panels we use, are manufactured with recycled materials already.
ROPES Europlay's ropes and net constructions are made of vandalism resistant steel cables. These consist of an interweaving of thin galvanised steel wires. This construction ensures rope flexibility and resistance against heavy overload and pulling force. The galvanised steel wires are eventually covered by polypropylene. This cover makes grabbing easier and gives a pleasant feeling in children's hands. Ropes and nets are available in different attractive colours.